December 15, 2015
Toronto, ON
Ladies and gentlemen, I am so excited to announce Sound Travels: An Exploration of the Sound Maker's Journey coming to Gallery 345 in Toronto on March 19, 2016. This interdisciplinary soirée will feature a group exhibition of photographs by myself, Andrea Ramolo and Faye Blais as well as live music by all the artists. Read the full exhibition statement below, and put it in your calendars now. Hooray!
xo
Sweetland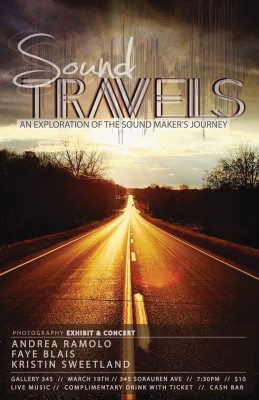 Sound Travels: An Exploration of the Sound Maker's Journey
Saturday, March 19, 2016
Gallery 345 at 345 Sorauren Avenue
Doors at 7:30 pm
$10 admission includes one complimentary beverage
A special musical showcase by all three photographers
Live music and burlesque entertainment

Sound Travels: An Exploration of the Sound Maker's Journey is a group exhibition of photography by Canadian musicians Kristin Sweetland, Andrea Ramolo, and Faye Blais. The selected images explore the relationship between music and photography, light and sound – the sound maker and the road.
All three artists have spent the better part of the last decade in travel, bringing their musical compositions to other parts of the country and the world. Their journeys, needless to say, have been vibrant, colourful and very unique, with one common thread – music served as their muse.
From barren highways and endless skies to personal moments and abstract expressions, the pieces will offer viewers the opportunity to share in each artist's individual journey through their eyes.
In collaboration with Gallery 345, this group exhibit will run for one night only. The soirée will be held on Saturday, March 19th between 7:30 pm and midnight at 345 Souraren in Toronto. The $10 admission will include a complimentary beverage, a live pianist, a special burlesque performance and an intimate concert featuring all three photographers. A cash bar and hors d' oeuvres will also be available.
ARTIST BIOGRAPHIES
Kristin Sweetland is an interdisciplinary artist currently living in Toronto, Ontario. She is a guitarist, singer-songwriter, photographer, writer and international touring road-warrior. Sweetland has released two EPs, three full-length albums and recently launched her highly anticipated first book of photography entitled "Adventures In Sweetland."  The photographs are selections from a series of the same name she began as a photography student at the University of Victoria. There, Sweetland was given an assignment to document her emotions through a series of self-portraits. The class ended, but the series never stopped. More than a decade later, the project has followed her through endless adventures across mysterious landscapes in a sweet land that seems to be all her own. A full time touring musician, Sweetland has transformed North American landscapes into photographic fairytales, inviting viewers to travel into her imaginative world.
Andrea Ramolo is a musician, dancer, actor, writer, photographer, and educator.  Her life as a multi-disciplinary artist has had her living out of her van from Newfoundland to Haida Gwaii and up to the Yukon, singing on stage at Massey Hall, sharing a microphone with Gordon Lightfoot and Ron Sexsmith, dancing alongside Carol Burnett and Tracey Ullman in Disney's 'Once Upon a Mattress,' performing at the Toronto Fringe Festival, dying a horrifying death in a zombie movie, and teaching at inner city high schools.  As a musician, Andrea has released two solo albums – one of which granted her a 2011 Canadian Folk Music Award nomination.  She has also released two albums with her duo Scarlett Jane and is presently working on her third solo album.  This is her first photo exhibition and she is thrilled to share glimpses of the beauty that has crossed her path, the people she has been fortunate to live alongside, and the landscape she has wildly explored throughout her adventures on the road as a touring musician.
Faye Blais is a multi-disciplinary artist who has spent most of the last decade traveling the world through her music. She has released four indie-folk solo albums and most recently an EP with her new indie-electro-pop venture "THE WEAKNESS". This year brings about a new wave of creative energy for Faye, as she takes a break from the road to delve deeper into the realms of music production, graphic art, and photography.