November 4, 2015
Toronto, ON
What a beautiful November it has been so far. I've home in the city enjoying the sunshine and dreaming of all the things I'm excited to do in the coming year. There shall be parties, photo exhibits, Cuban caravans, Cross-Canadian tours and all sorts of adventures in America. Plus, new merchandise and lots of new music coming soon! I'll be collaborating once again with some of the divine Ladies In Waiting as well as brilliant guitarist/composer Adrian Raso.
My next show is on Friday, November 20th at Musideum in Toronto. This will actually be my one official Toronto performance of the year – so you simply must come.  I'll be reuniting with my dear musical gypsy road sister darlenYa for an intimate evening of music and art. Those of you who know darlenYa know that there is just no one like her. It'll be magic. Tickets are limited so we recommend reserving in advance. For more info and to reserve: http://musideum.com/concerts/kristin-sweetland/
Also, be expecting a new story from my Adventures In Sweetland essay series courtesy of mojojunction.com… It's going to be a juicy one.
As well, the latest photographic series from my eternal Sweetlandish adventures is called "Dramatic and Queenly." You will find in all its colour-coronated glory here.
See you soon…
xo
Sweetland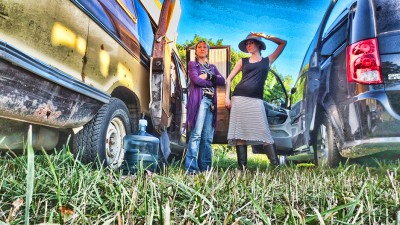 With darlenYa and our Vans at Blissfest 2014