January 1, 2016
Toronto, ON
Hola Amores,
¡Feliz año nuevo! Quiero practicar mi español para todos mi próximas aventuras españoles. In a couple days I head to Cuba for a week of glory in an Old Havana colonial manor some friends and I have rented. I'm quite sure you can expect a photograph or two and many tales to tell upon my return. If I do in fact ever return, that is.
But there's a good chance I'll be home in time to play a sweet gig with brilliant guitarist Megan Lane on Sunday, January 17 at the Monarch Tavern in Toronto. Stay tuned for more details.
Beyond that, the Sweetland plan for the New Year is looking quite grand. Expect an announcement about the next magical house concert party at Casa Sweetlandia coming soon. Shortly after that, I'll be heading down to Kansas City, MO to play an official showcase at this year's Folk Alliance International conference. It will be so good to see all the folk family again!
When I get back, I'll be busy preparing for Sound Travels: An Exploration of the Soundmaker's Journey – a group photography exhibition and performance on Saturday, March 19 at at Gallery 345 in Toronto.
April has me packing up my flamenco shoes for my first ever trip to Spain. After more than a decade of studying Spanish dance I finally get to visit the Motherland Flamenca. Who wants to come dance all night at the Feria de Sevilla with me? I'm ready for a new adventure.
In May, please save the date for Saturday, May 14 as forces are conspiring something magnificent and glamorous t.b.a… I'm excited.
June will bring roses and the culmination of a year's work at the Esmeralda Enrique Academy of Spanish Dance. On the last Sunday of the month come out for Fiesta Flamenca, our yearly student recital. There will be polka-dots.
After June, the world shall be my oyster – or the continent at least.  I really just want to get into my van and drive as far as I can for as long as I might, playing up storm along the way. If you want me to perform at your venue or visit your lovely town send me a note. I'm up for all things good.
So here's to all that we wish to manifest in 2016. Let our hearts be free and our feet light upon the many roads we shall travel.
Muchos besos,
xo
Sweetland
P.S. My latest Adventures In Sweetland photographic series "Dramatic and Queenly" is now complete… behold all the drama here.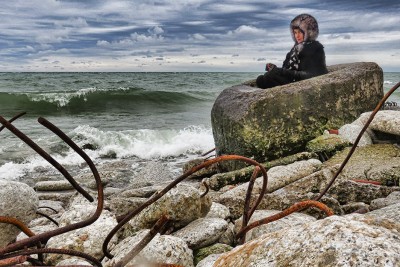 From "Dramatic and Queenly"