January 15, 2016
Toronto, ON
Mis Amigos,
I'm home from my southerly sojourn and slowly re-emerging back into the real world. So many things have happened in but a fortnight that it feels like a year has passed since last I wrote. I had quite the adventure in Cuba living in a Old Havana Casa Particular some friends and I rented. A lot of Cuban families offer up their houses to tourists providing room – and sometimes board. Our Casa was a beautiful colonial manor where our host family has lived for over 200 years. With 20ft ceilings and Madera crystal chandeliers, it seemed more like something from a storybook than a vacation.
The weather was a mix of hot and sun with intermittent torrential downpours. My umbrella couldn't even keep me dry. Between the storms I managed to explore most of Old Town with its cobblestones and church bells. It was quite the picture for my photographic brain and I snapped some sweet shots I'm quite fond of. Most memorable moments include: a trip to the Cementerio de Cristóbal Colón (I love me some creepy crypts), a walk along the Havana sea wall with my beautiful travelling companion (and fellow Lady In Waiting) Andrea Ramolo, as well as our daily pilgrimage to our favourite Havana restaurant 304 O'Reilly. I also enjoyed watching Andrea salsa dance all night with one of Cuba's best pro dancers, while I tried desperately to avoid all the men asking me to dance. It made me feel very Canadian, but I've learned that I don't actually enjoy being touched by sweaty strangers. Ha! But I was a sport and danced three times anyway… I'm a sport like that.
Since I've never been one to favour a relaxing vacation over an interesting one, it's no surprise that we had our share of challenges along the way. The noise was probably the most significant culture shock for me and I wonder if I ever really slept at all. The sounds outside would begin at sunrise with the birds and the roosters and a cacophony of voices on the street. Vendors wandered by calling out their wares in a repetitive musical chant, back and forth and back and forth outside our window. On day three they decided to completely excavate our street to make way for new water pipes and the jackhammering began far too early. This in combination with the salsa lessons going on in the ballroom outside our door, made for some memorable music. With hardly any insulation the cavernous rooms and wooden ceilings reverberated like a giant musical instrument, amplifying every sound. I found myself longing for the quiet of honking streetcars on King Street and have slept like a baby ever since I got home.
Away from the Casa the noise was no less. I expected some attention from the locals as a tourist, but had no idea how constant it would be. Nearly every single man we passed on the street seemed to have something to say, and it was usually the same, "Bonita, bonita, where you from? Boyfriend? Cuba boyfriend?" My friend joked that she was looking forward to going back to Canada where the men just ignore you when they like you -but let's face it- something in the middle would be just about right.
The flight home was no less of an adventure. Upon spotting some drunk Croatians I had come upon in the Basilica de San Francisco de Asis bell tower, I prayed they would not be sitting behind me on the plane. Of course they were. "Foto, foto, chica, chica!" they cried out upon recognizing me (proving they had learned one too many things from the cat-calling streets of Havana.) The flight attendant had to threaten them with diverting the plane at their expense if they didn't shut up. Soon after, the small child in the seat next to me threw various ear-splitting tantrums kicking me repeatedly for most of the flight. To top to off, the lady in front of me put her seat back all the way back down into my long, Sweetlandish legs until I had quite enough and went to spend some quiet time in the lavatory. Which was occupied for ages… by the plane's Captain who was in there throwing up repeatedly. This information I decided to keep to myself until we landed safely. Which thankfully we actually did.
All in all, I had the best time. Believe it or not. Even though it was the worst time at times. Good thing that's how I like it. And luckily I made it home to the cold with nothing more than a little Cuban cold. So in the name of my good health I've been curled up on the couch for days catching up on my Netflix and Thai take-out. So you know where I'll be if you want to come bring me some soup or a snuggle. For more photos from Old Havana have a peek at my Instagram page here, as well as my newest Adventures In Sweetland series "High & Lone."
xo
La Tierra Dulce
P.S. FYI my scheduled gig this Sunday, January 17 at the Monarch Tavern with guitarist Megan Lane had been pushed back to next Sunday, January 24 where I will be joining her and the divine Ms. Melanie Brulée. Which is just fine with me! Hope to see you then… Doors at 8, show at 9.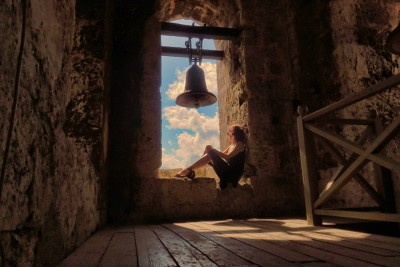 From "High & Lone" more photos here.