Biography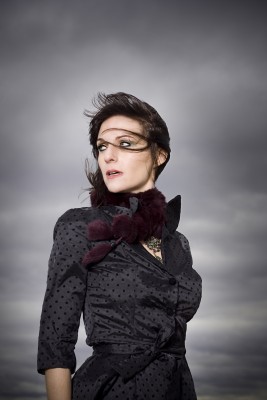 To say that Kristin Sweetland is a musician, singer, songwriter, and photographer would be to sell her unique artistry short. She is an artist, and a nomadic one at that — having lived all across North America for many years in her van, the road her home. And the fact that she refers to her incessant touring as "les aventures" provides just a hint of her uniqueness and quirkiness.
Now Toronto-based, Sweetland has released multiple CDs and EPs; internationally toured her particular brand of smart, sexy folk -rock more times than she can recall; won two awards from Folk Music Ontario's "Songs from the Heart" competition; and worked with such acclaimed artists as James Keelaghan, Ken Whiteley, David Travers-Smith and Derek Downham. Her most recent album is an instrumental duo project with bassist-violinist Lyndell Montgomery called "The Adventures of Captain Dirt & The Skirt." And in keeping with the "adventures" theme, Sweetland has just released her first highly-anticipated book of photography "Adventures in Sweetland."
Kristin Sweetland grew up in London, Ontario. A memory from Sweetland's childhood evokes imagery of perhaps a century ago: "My dad would stay up at night playing Carter Family tunes on his guitar and my grandpa would get up at sunrise to play banjo out on the back stoop."
The pivotal catalyst for Sweetland's musical career was seeing the 1988 movie Satisfaction starring Justine Bateman and Julia Roberts. After first ripping holes in all of her jeans, Sweetland told her dad she wanted to play guitar; the next day they bought a cherry red Peavey Stratocaster. A few years later she also picked up the acoustic, and in these formative years Sweetland decided that there was nothing she couldn't learn to play if she put the time into it. And she did.
Sweetland's music became more of a profession than a hobby when she took courses and workshops at University of Victoria in British Columbia, where she learned the intricacies of songwriting and form. Sweetland was accepted to the BC Festival of the Arts, which was her first time performing her own work for a live audience.
After graduating Sweetland stayed in Victoria playing gigs, working on another degree, and taking various film and fine arts courses, and cultivating her love of photography.
Her first photography assignment was self-portraiture, which she uses to express herself to this day. "Through all of les adventures I've been doing a self-portrait series," she explains. "More than my words, the pictures tell the stories of where I've been and what I've done."
Her gorgeous photos demonstrate a depth of emotion, keen eye for composition, and talent for storytelling. Sweetland doesn't see the woman in the photographs as herself but a character, often referring to her as "she."
After moving back to Ontario, Sweetland released the 2002 Ken Whiteley-produced album Root, Heart & Crown, which was lauded for its intelligence, quality, poetry, power, and range, and Sweetland for being a gifted lyricist and composer, outstanding guitar player, and mature singer.
Sweetland took the show on the road, booking as many shows as she could, with showcases and conferences along the way. Four years of touring later she made her second CD, Own Sweet Time, which she spent approximately a year and a half on. "I think there's something about your sophomore project that makes you go a little crazy," she says, admitting that she can go "deliciously and adorably artistically insane—in a totally nice-to-be-around kind of way!"
Released at the end of 2007, Own Sweet Time was also critically acclaimed as intelligent and enchanting, and Sweetland's guitar work as incredible, supple, and amazingly diverse.
After the album's release Sweetland headed back on the road. "I really love being on the road," she says. "It just helps everything." She survives financially solely off of her music; the lack of a permanent residence frees up her money for "gas and fine footwear." And it's no joke—high heels are among Sweetland's three fetishes. "I can do anything in high heels," she boasts.
(I know you're wondering: the other two fetishes are "polka-dots and private detectives.")
Sweetland will be happy as long as she's playing music and touring, but some goals include expanding her live show to incorporate choreography and more visual aspects. She also has some "rock and roll" aspirations: "I'm secretly coming up with sexy band names because my next project will be a band. I want to shake it up a bit."
Whatever Kristin Sweetland chooses to do, the result will inevitably be "Sweetlandish"—her personality and artistic vision are too irrepressible and will always shine.
"In everything I do," she says, "I try to cultivate an atmosphere that makes you feel you're on a bit of an adventure."
"Powerful guitar and a true original"
– James Keelaghan
"Great melodies, great lyrics, great musicianship, great voice and great attitude."
-Alex Mason, producer, CBC Radio's Sounds Like Canada